Breeding, Newborn Care Tips, Puppy and Kitten Care
Neonatal Puppy Care: Create the Optimal Environment for Neonates
December 10, 2020
Do newborn puppies need anything? The answer is, Yes. Newborn puppies are the most fragile dogs we have. As newborns, they don't have the resources to adapt to internal and external environmental changes the world throws at them. Small changes in temperature, humidity, oxygen, and food intake can destabilize their ability to maintain their internal bodily functions. When we provide them the support they need, they can not only survive but thrive.
Revival Animal Health's Director of Veterinary Services, Dr. Marty Greer and Ken Sunden, CEO of Puppywarmer will discuss how to keep newborn puppies warm, how do you help a weak newborn puppy, the 4 H's of neonatal puppy care, how the 4 H's are intertwined and how the Puppywarmer system can significantly change your success rate in raising puppies.
*During this webinar, Dr. Greer mentions a handout. Scroll down below Shop This Webinar to find the handout she is referencing.
Neonatal Puppy Care: Create The Ideal Environment
What Newborn Puppy Supplies Do I Need? Shop This Webinar!
Some of the newborn puppy supplies Dr. Greer mentions in this webinar include:
Puppywarmer Oxygen Concentrator
Breeder's Edge Foster Care Canine Milk Replacer
Breeder's Edge Repeat Whelping Pads
ThunderEase Calming Diffuser Kit
Canine Reproduction and Neonatology (book)
Handout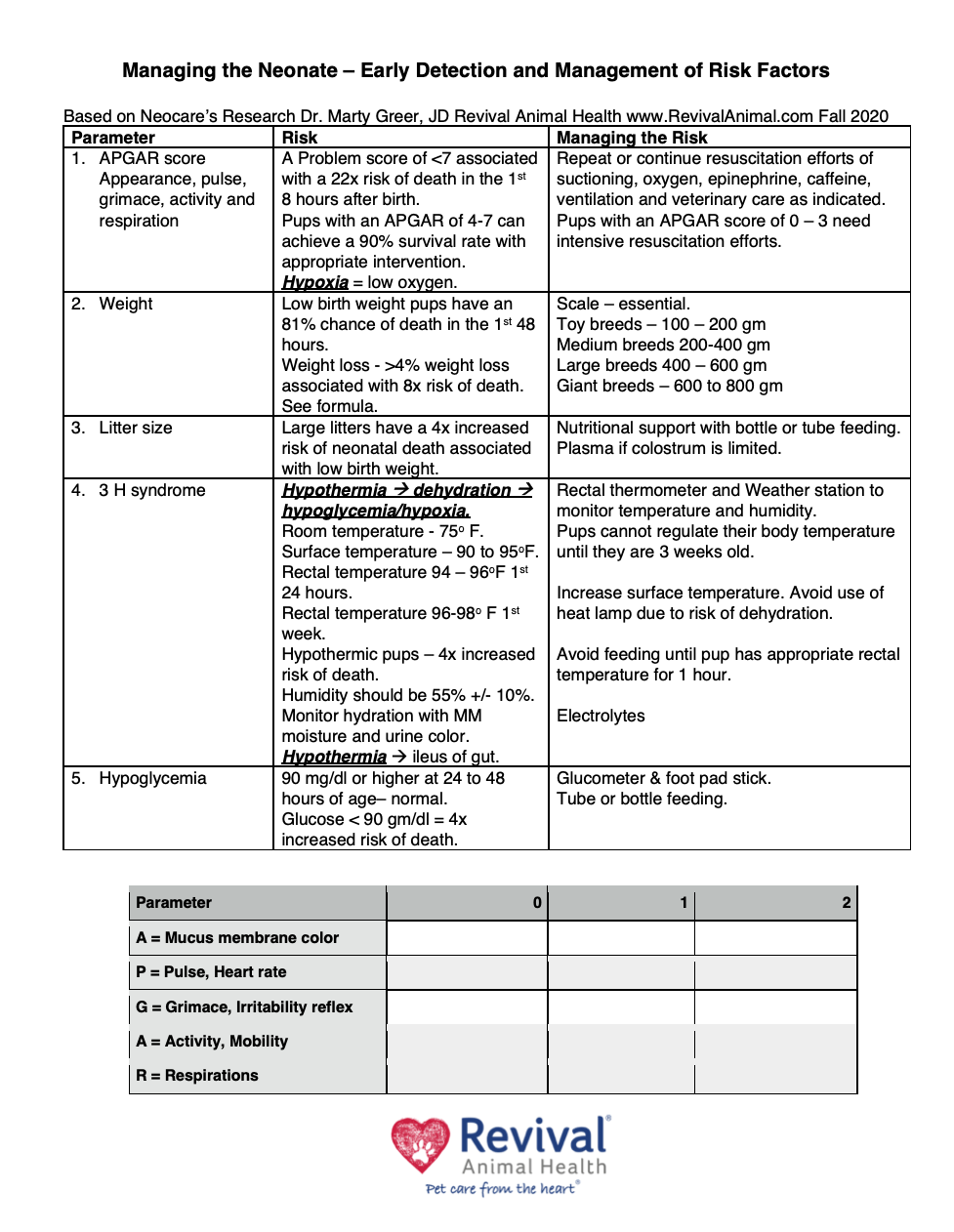 Questions or need help? Call us at 800.786.4751.
Written by: Marty Greer, DVM
Director of Veterinary Services
Marty Greer, Doctor of Veterinary Medicine, has 35+ years' experience in veterinary medicine, with special interests in canine reproduction and pediatrics. She received her Doctor of Veterinary Medicine from Iowa State University in 1981. She's served as Revival's Director of Veterinary Services since 2019.
The materials, information and answers provided through this website are not intended to replace the medical advice or services of your personal veterinarian or other pet health care professional. Consult your own veterinarian for answers to specific medical questions, including diagnosis, treatment, therapy or medical attention.