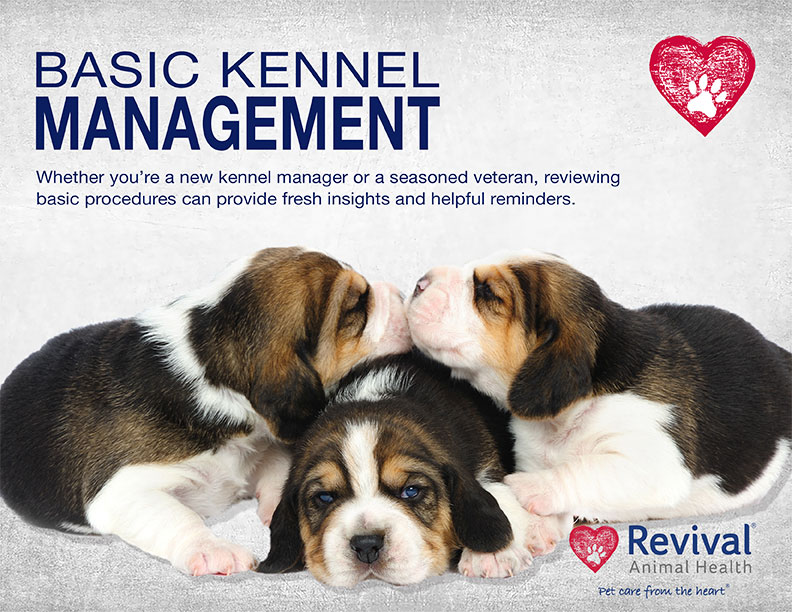 Are you unsure which dewormer is best for your dogs?
Need to double check that you've got pregnant-safe antibiotics on hand?
Or is it time to brush up on the most current newborn puppy care techniques?
Well, you've found a great resource: Revival Animal Health's Basic Kennel Management Guide! Inside, we've curated advice on best practices for breeding, puppy care and general kennel management. Written by Dr. Bramlage, Revival's Former Director of Veterinary Services and the Revival Education Team, and based on a continuing education project by Pet Care Pro Lori P., this guide offers support for new breeders and reminders for seasoned pros.
We've also developed Revival Quick Lists, which are printable, easy reference charts on emergency whelping supplies, dewormers, antibiotics and disinfectants. These valuable resources cover a variety of products in each category, offering reminders about what the products do, whether or not they're safe for pregnant moms and puppies, and any risks or limitations to note. Print these lists and hang them in your kennel or by your medicine cabinet; you'll feel safe knowing you pick the right products for every situation!
From disease prevention to deworming, nutrition and heat cycle management, we've tried to outline strategies for many common kennel situations. Need help with an issue we didn't cover or have a specific question? Give us a call at 800.786.4751! Our knowledgeable Pet Care Pros can work with you to find a solution.
Healthy puppies are our passion, and Revival hopes to be your partner from pre-pregnancy to the puppies' next homes.
Written by: Donald Bramlage, DVM
Donald Bramlage, Doctor of Veterinary Medicine, practiced veterinary medicine for 30+ years and is known for his work in managing parvovirus. He received his Doctor of Veterinary Medicine from Kansas State University in 1985. He served as Revival's Director of Veterinary Services from 2011 until his retirement in 2019.
The materials, information and answers provided through this website are not intended to replace the medical advice or services of your personal veterinarian or other pet health care professional. Consult your own veterinarian for answers to specific medical questions, including diagnosis, treatment, therapy or medical attention.