Pet Tips with Dr. B
Dr. B's Christmas Letter 2016
November 29, 2022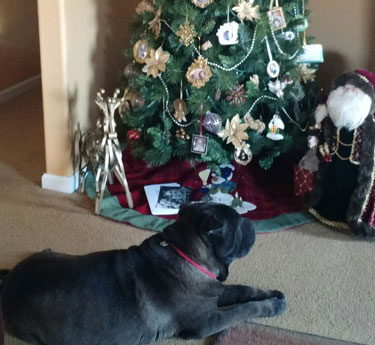 Merry Christmas from Dr. B
This Christmas season I'd like to pause and share with you a miracle.
One December I received a phone call that two of my clients were in a terrible accident and refused to go to the hospital until the police brought their dog to me. The wife, Sarah, had a concussion, several broken bones and a neck injury. Her husband was OK, but banged up. Fife, a 15-pound Boston sat in the middle and had hit the windshield. Fife was unconscious, but breathing.
When I arrived Fife was out cold with no movement. A quick X-Ray revealed two fractured vertebra in his neck and a concussion. He was lucky to survive. While treating Fife, a call came from the hospital. Sarah needed surgery but refused to go until she knew Fife was OK. I told her Fife was responding but would need her to recover. It turned out they would help each other.
After surgery, Sarah had a tough recovery ahead. Fife's neck began healing but he was slow. Sarah began physical therapy and the therapist allowed Fife to come along. Fife had a job to do, keeping Sarah motivated." Sarah didn't always want to do her therapy exercises at home, so her therapist and I teamed up and wrote a special prescription for Fife. Three walks a day. Every day. Sarah made sure Fife got "his" walks and both experienced healing together.
I do not take credit for Fife's recovery, there was a higher power and much love that did the work. Who knew a 15-pound Boston named Fife could influence his owner's recovery and stir my heart! We do not think of our issues when helping someone with theirs. Fife allowed Sarah to not dwell on her recovery but to focus on his. His contagious spirit did the rest!
A pet will give without question, smile without effort, and offer a kind paw whenever it is needed. Merry Christmas to you and your family!
-Dr. B
Donald Bramlage, Doctor of Veterinary Medicine, Former Director of Veterinary Services at Revival Animal Health
Donald Bramlage, Doctor of Veterinary Medicine, practiced veterinary medicine for 30+ years and is known for his work in managing parvovirus. He received his Doctor of Veterinary Medicine from Kansas State University in 1985. He served as Revival's Director of Veterinary Services from 2011 until his retirement in 2019.